Have you tried the luxury ESPA range yet? If so, you'll already know why it's our must-have brand of the month here at Millies, with its holistic philosophy and unique blend of ingredients. If not, get ready to learn all about ESPA, and why we can't help but love it so much. 
ESPA not only looks after your skin, but they pride themselves on focusing on caring for your whole well-being, with naturally effective products that deliver results you can see and feel. With luxurious textures and sensorial mood-enhancing aromatics, ESPA products do not only feel beautiful and luxurious to use, but they protect the long-term health and beauty of your skin.
With unique combinations of plant extracts, marine actives and essential oils to create the most effective and natural products, once you begin your ESPA journey you won't look back.
ESPA Active Nutrients
And in even better news? They have a brand new active nutrients range for us to enjoy. Revamping their Optimal collection, which has been a fan favourite for 10 years, the new Active Nutrients range is designed to help you love the skin you're in. If you're a fan of the original Optimal collection, don't fret, because the new range still has amazingly powerful natural ingredients and aromatherapy essential oils, but there are brand new products in the Active Nutrients range for us to introduce you to.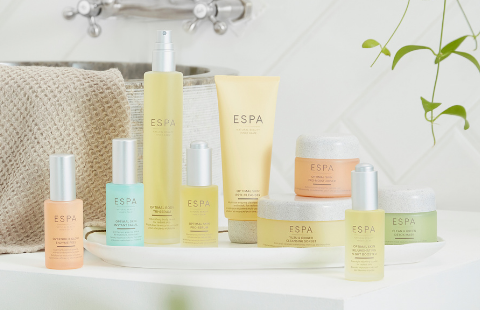 Yuzu & Ginger Cleansing Sorbet
A stunning cleanser enriched with zingy Ginger and luxurious Yuzu Oil, it helps to melt away impurities and leave skin with a radiant, healthy-looking glow. If you love your skin to feel nothing more than super clean and fresh, this cleanser is for you.
Simply melt the sorbet between fingertips then apply to dry skin and massage in, before gently adding a little water to transform the sorbet into a rich milk. Apply more water to rinse fully, or remove using a warm face cloth, and voilá! Clean, replenished, soft and nourished skin. Shop here. 
Overnight Glow Enzyme Peel
If you love a product that works hard while you rest at night, look no further than the Overnight Glow Enzyme Peel. Thanks to its vital nutrients, it recharges and resurfaces your skin while you sleep. On top of that, the Vital Nutrients Essential Vitamin + Omega Complex helps support the skin's natural barrier, while the Pineapple and Pumpkin enzymes blended with the glycolic-like benefits of Yarrow, provide a gentle exfoliating action which results in your skin looking progressively fresher and more radiant each morning. 
Depending on your skin's needs, you can use nightly or 1-2 times a week. After cleansing, apply it to the face and neck before drifting off at night. Shop here.
Clean & Green Detox Mask
Struggling with dull, tired skin that needs a radiance boost? You've come to the right place. The ESPA Clean & Green Detox Mask is inspired by a veggie smoothie, the creamy clay formula is packed with plant-based, nutrient-dense greens to help reset skin, by deep cleansing to refine the skin's texture and helps keep the skin looking shine-free. Get ready for healthier and brighter skin that feels softer and smoother than ever before.
Apply generously over the face and neck, sit back with a cup of tea for ten minutes while the mask works its magic before rinsing away with warm water. Shop here. 
Don't forget, you can check out our full range of gorgeous ESPA products on Millies.ie right here.